Article Attributed To: Kayla Bawroski, Editor at Hunt Valley Life
Situated in the Cranbrook Shopping Center in the heart of Cockeysville is a one-of-a-kind facility for preschool-aged children.
The driving forces behind the Drool of Rock were many, but three individuals stand out. All artwork in the building was conceived and created by Jenn Lawson, the enterprising owner whose lifelong artistic talent graces each room. Rick Gabell, Cranbrook Shopping Center's director of development, helped create the building's exterior and design. And the school's concept was inspired by Pat Hundley, a veteran kindergarten teacher of 35 years and singer-songwriter who instilled in his students a love for music. Lawson fondly refers to Hundley as "the teacher every kid wanted to have and no parent ever forgot."
With studies showing that musical education bears significant fruit in the form of high test scores as well as proficiency in mathematics and language, Jenn Lawson and Alicia Redifer have furnished a curriculum infused with daily music education. Where other schools might offer music instruction on a weekly basis, Drool of Rock's kids receive it every day with the goal of preparing the children for kindergarten. Our goal is to "rock the preschool world with a music-infused curriculum," says Lawson with a smile.
This program consists of daily music, song time, and interactive performances from musicians. Drool of Rock's little students sing, shake and shimmy to original songs customized to fit the material current in their curriculum. Instrumental basics, live performance, and movement exercises are among the other innovations in this experience. And how does this go over with the children? "I like it when the kids run through the door when I unlock it in the morning," says Lawson. "And I love how happy the parents are too."
Remember being in school as a youngster and how time seemed to stand still when you were confined to the same seat in the room all day? On a typical day the kids move through the hallways with their teachers to the activity rooms where they can read, relax, explore, learn, and play in an imaginative and educational atmosphere. The classrooms have such creative names as Blue Suede Two's, Bobby McThree's and Four-Ever Young.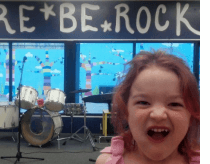 In Brief: Saturday Shows at Drool of Rock
On the weekends, Drool of Rock is a music center featuring live performances. Saturday Shows, as these events are called, are hosted by local musicians known for their talent, energy and love for kids.
Kevin Sherry, Devin Breithaupt, Betz Connor, Michael Vance, Dave Tieff, Maynard Edwards, Andy Belt, Julia McAndrew, and, of course the aforementioned Pat Hundley, are just some of the names and acts that perform for the children. To promote the facility, Drool of Rock hosts one free concert per month. "At Drool of Rock, it's the music program and atmosphere that set us apart from everything else available," says its website, froolofrock.com. "Live. Love. Learn. Rock" is the school's motto.